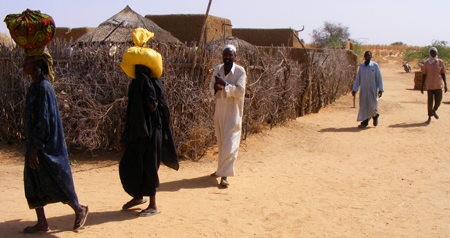 There is a "souna" (naming celebration) in one of the Eden villages, and people have come from the neighboring villages to celebrate the birth of a little child.
The hardworking Eden girls of the village have taken the day off to celebrate,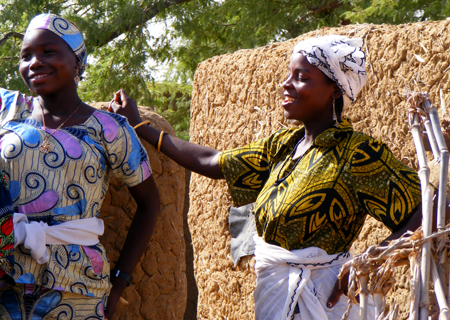 …comparing their new outfits, bought especially for this occasion.
We meet Eden farmer Mutari outside his house. Although he is happily participating in the general festivities of the village, he poses for the camera with the serious air that is culturally expected.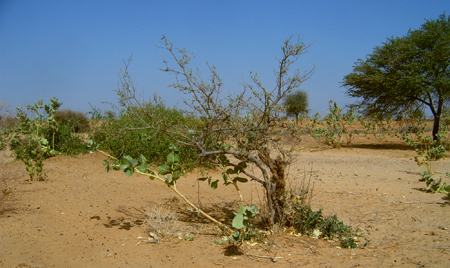 Mutari joined the Eden program in 1992, and has been sowing Eden trees in his field ever since. Today, his family relies heavily on their many Eden fruit harvests, which enable them live well. After 18 years with Eden, no one in Mutari's household goes hungry and all of his children are well dressed!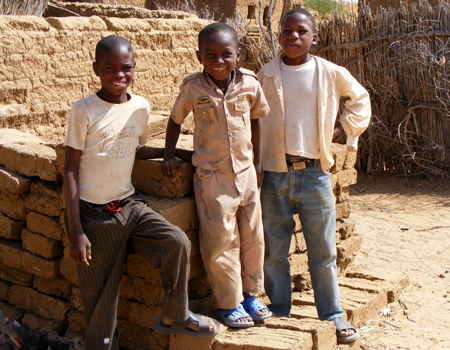 Mutari's son Ibrahim (center) with his friends Salisu and Ayuba
We meet Mutari's youngest son Ibrahim in the family courtyard, where he is playing with his friends, who are also sons of long-term Eden farmers. Ibrahim is very happy with his family's Eden Garden and talks about the value of Eden fruit. "My brothers and I collect Eden fruit all the time. That's how we make money to buy the things we want. Our mother hides the fruit for us on the rooftop, to keep it out of reach from our younger sisters. If she didn't, they would throw themselves at what we have collected and eat it all at once!"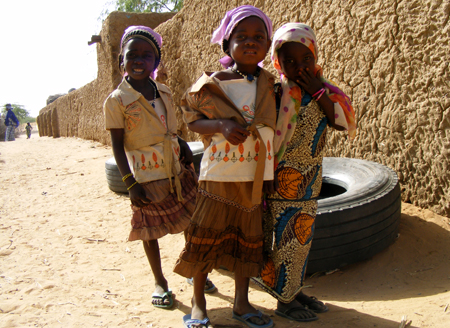 The younger sisters that Ibrahim is referring to are also outside. Dressed in newly purchased matching clothes, Aishatu and Hashasha are taking part in the village festivities together with their best friend Zaliya.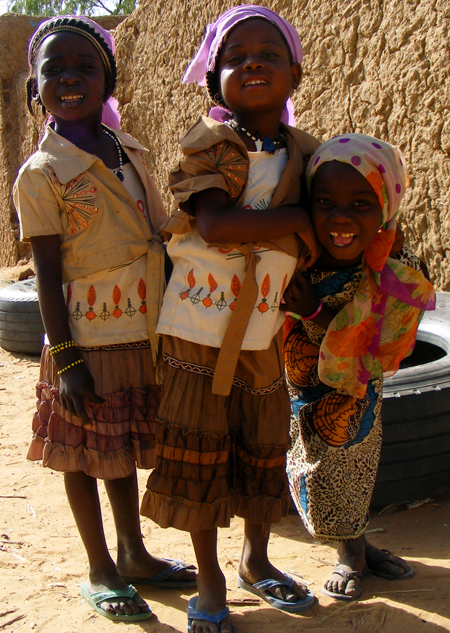 Mutari's youngest daughters Aishatu (left), Hashasha (center) with their friend Zaliya
Annoyed that their brother accuses them of throwing themselves at his Eden fruit harvest, the girls are eager to set the record straight: "Every time someone in the family takes the ox cart to go work in the field, we tag along, and while they are working the land, we collect Eden fruit. We are great collectors. Then we give the fruit to our mother, who sells it at the market for us and buys us everything we want. We are most certainly better Eden fruit collectors than any of our brothers, as you can tell by the clothes we are wearing!"